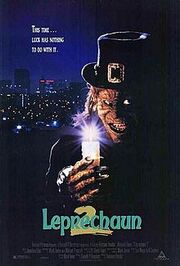 This page borrows some information from
Wikipedia
.

Leprechaun 2, is the second Leprechaun film in the Leprechaun series.
Description
Edit
A thwarted leprechaun exacts his bloody revenge in this darkly comic horror film. A thousand years ago in Ancient Erin, there lived a wee Leprechaun who searched for a comely bride. Legend has it that his proper bride would thrice sneeze. Poor Leprechaun did find his sneezing lass, but just before the third achoo, her daddy, the Leprechaun's slave, thwarts his plans. Angry, the wee man vows to exact his revenge upon the man's fairest ancestor 1,000 years hence. Time flies and the movie moves to modern California on St. Paddy's day. The Leprechaun returns to find the lovely Bridget sneezing. Once. Twice. Thrice. He captures the beautiful but hapless Bridget. To her rescue comes her fearless boyfriend Cody who steals a piece of gold from the Leprechaun. Enraged, the greedy greeny begins systematically killing people. Will Cody prevail?
Ad blocker interference detected!
Wikia is a free-to-use site that makes money from advertising. We have a modified experience for viewers using ad blockers

Wikia is not accessible if you've made further modifications. Remove the custom ad blocker rule(s) and the page will load as expected.